A necklace with initials. The jewelry trend of today
The latest jewelry trend this spring, is a necklace with initials. This trend is very hot and can not be missed in your jewelry collection. I think they are beautiful and quickly knew which I wanted to order. Where to buy? And why they are so hot?
Read here.
A strange time
We are currently living in strange times. We all stay indoors as much as possible and take care of each other. Many are home alone, with a partner or with the family.
We may not go anywhere and we haven't seen family members for weeks. Just now it is so nice to have your loved ones close to you. That may be why I find it extra special now to wear jewelry with the initials of my loved ones.
A necklace with initial
How special is it to have the initials of your children or loved one always with you. This spring the initial necklace is totally hot and trendy. And because I just love wearing jewelry now, I ordered initial necklaces from My Jewellery. My Jewellery is one of my favorite stores. Why?
Not only because they have an incredibly large collection of clothes and jewelry, but also because they always give combining tips. Both on the site and in the newsletter, they show how to combine clothes and jewelry. This gives me a lot of styling tips. That combining also counts for the initial necklaces.
This one can be combined very well with initial bracelets or rings.
Vintage necklace
The initial necklaces can be purchased in both gold and silver. There is plenty of choice, so there is a favorite for everyone. I chose a vintage inital necklace and a loose charm.
The nice thing about this vintage necklace is that the necklace itself looks a bit more robust with a very subtle initial pendant on it.
Gold and silver pendants
If you prefer a larger letter you can choose a letter charm. You can buy these in both silver and gold. The large eye on this charm means you can practically hang it on any necklace. which is also very nice. is to hang multiple charms on a chain, this letter charm I personally like very much when hung on a longer chain.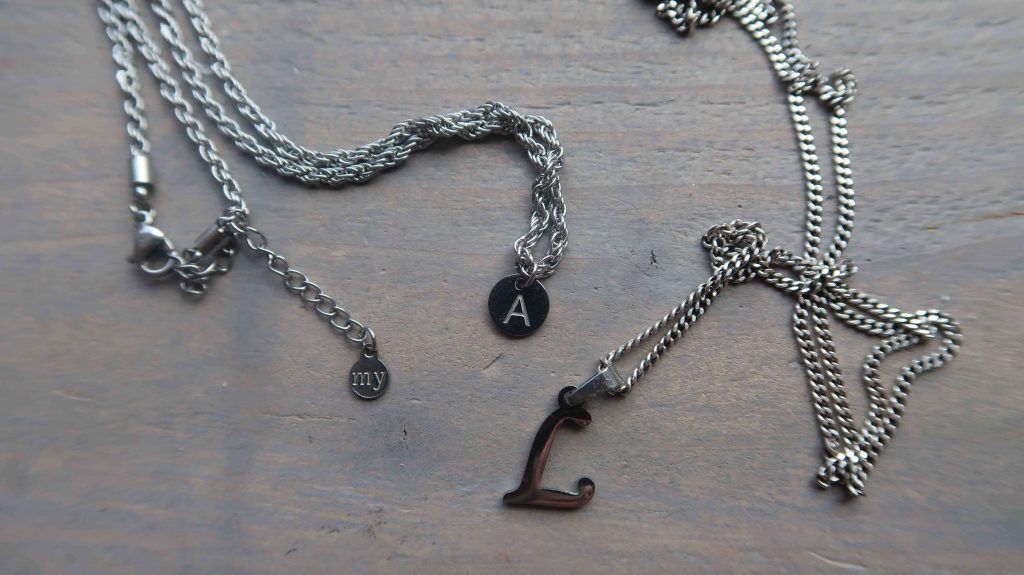 They never go out of style
Would you prefer a different chain, you can. How about a letter necklace, or a coin with initial, an initial bracelet or ring. This jewelry may be hot and trendy now, but of course it never goes out of style. They are made of stainless steel. This will make them last for years and you can just keep them on with showers or swimming.
Ideal!
This jewelry totally fits the Bohemian style
I prefer to wear long, wide skirts, dresses in bright colors and tops with wide, trumpet sleeves. This is also called the Bohemian Style. In recent years I have started to wear this style more and more. And regularly succeed with clothes at My Jewellery.
Well it suits this style to wear jewelry, lots of jewelry. I can combine these initial necklaces with other necklaces I already have.
Here clearly an enthusiast speaking, are these necklaces something for you too?