Complete your arm party with an initial bracelet
Armparty I hear you thinking, what does she mean by that. Used to be a Christmas tree if you wore a lot of jewelry, nowadays it's all fine. Here I show you how you can complete your own arm party with an initial bracelet.
An arm party
The name says it all: an arm party is a party for your arm with bracelets and/or a watch. With an arm party you wear several bracelets on one arm. This allows you to combine different colors or materials.
For example, you can choose engravable bracelets, bracelets with beads, large bracelets or small. Just what you like.
Casual with bracelets
Now to keep an arm party from looking too cluttered, it is good to choose a certain style. Now there are plenty of styles to choose from, so if you want to start an arm party there's bound to be one for you. You can go casual, for example, with a minimalist initial bracelet, gold or silver bracelets and a large bracelet that stands out or you can opt for the bohemian style.
Initial bracelet
If you choose a casuas style for your arm party, you can opt for engravable bracelets. These bracelets are super pretty to look at and can go great with more bracelets on one arm. I have three engraved bracelets that I actually wear every day. Two with the names of my sons and their birthdays. Not that I'm afraid of forgetting it, but I think it's beautiful.
These days that are very special to me, these days that made me 'mother'. I have this on my arm every day. I also have an initial bracelet with initials of my husband and myself. I chose three different bracelets, because I think it looks very playful, but also combines well with the bohemian style.
Because if I want my armparty to stand out more, I choose the bohemian style and can wear these bracelets here as well.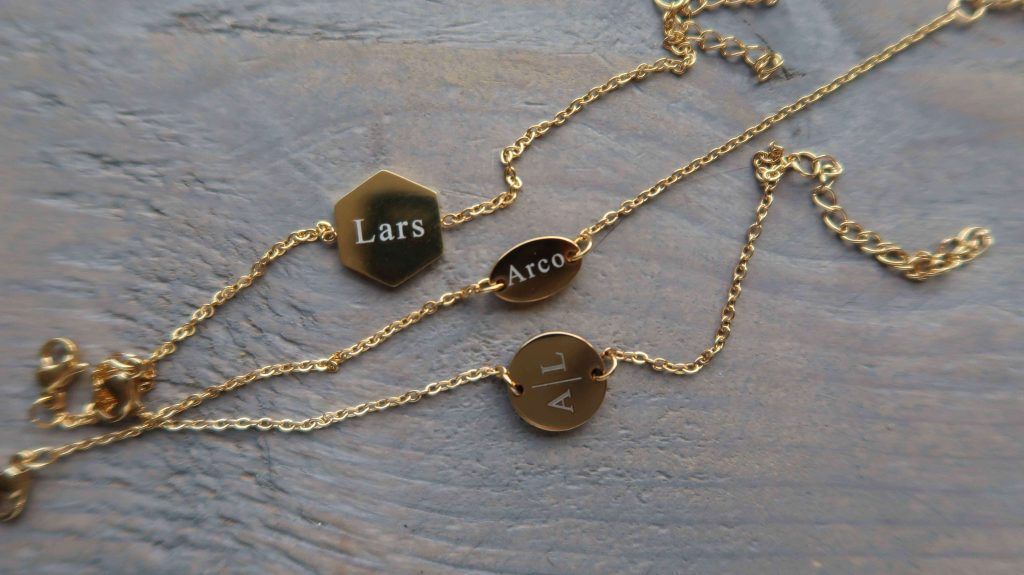 The bohemian style
The bohemian style, is a style you will see more often here on my blog. I am a big fan of this style. In the bohemian style, there are wide long dresses and skirts, shirts with trumpet sleeves, jeans with an eye-catching shirt, cowboy boots and lots of jewelry.
The jewelry you wear with this is often summery, these can be gold, silver or I in color and given the arm party really just all of them. Because I love the Bohemian style, I like to wear a lot of bracelets. I like to combine them.
The advantage is that everything is possible. Gold, silver, colors, beads. You are good with everything.
Discount on engraved jewelry
Do you want a nice engraved bracelet like this?. With the discount code LODI15 you get 15% discount on the website of Fineste. Besides an initial bracelet, you will find much more jewelry here.
This discount code is valid until April 2 and cannot be redeemed in the sale.